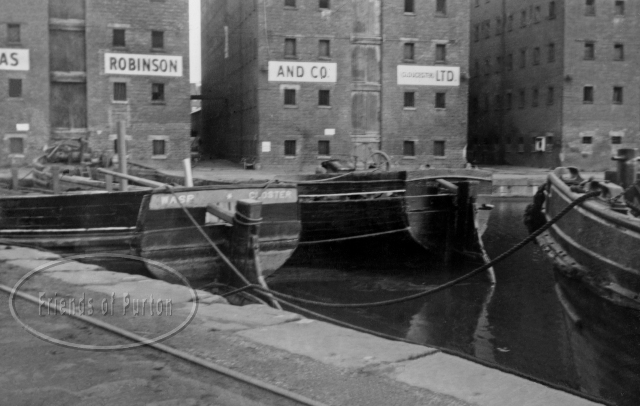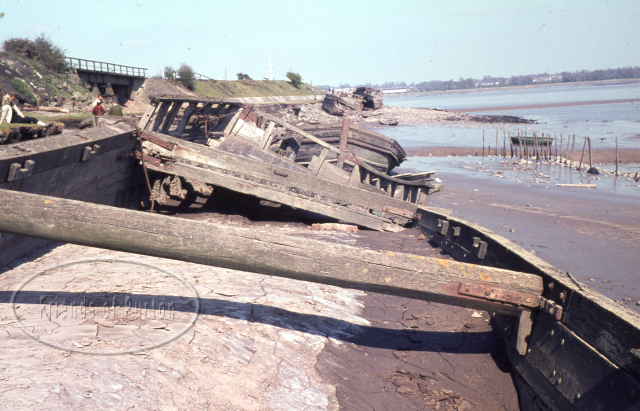 Wasp

LPB identification number 18

Source

(GF)(EA)(LPB)(DF)(GRO)(DB)(HCJ)(GM)(DJW(BM)

Name

P.O.R

Description

Dates

Wasp

Gloucester 1/06

wd towing bge no rig
Wd (JH says Tw)

1895 – 1954

Official number 119633

Code

Builders: - Saul, Fredrick Evans

Dimensions(1906)

Length 68.5ft

Breadth 13.7ft

Depth 4.2ft

Tonnage – (1906) Gross ton Net 36 ton B.D In excess of larchway 4 1/06

Engines None

By N/A

H.P. N/A

Beached date

May 1954 towed to Lydney for breakwater

Beached by

Donald Fowler & Oliver Powell

Miscellaneous

Notes
Glos 1/9.4.06, 1, -, - , sq,cvl, - , - , wd (dim) (towing Bge)

First Owners

Changes

9.4.06 (64) Arthur .Samuel Rice Gloucester (08 13)
18.8.19 (64) Eli Ayland, Gloucester & Edwin George Smith, Gloster
25.10.21 (64) Louie May Goode, Woodford, wife of Douglas Frank Goode, Woodford , Essex
30.6.22 (64) Jacob Rice & Sons Ltd, Gloucester (in liq 19.10.34)
19.10.34 (64) JR & Son Ltd, St Owens Steam Wharf, Gloucester
27.5.49 (64) Walter Ralph Butt, Saul
Louis Paul Barnett 2019
Similar to Purton, vessels which had been selected to be beached at Lydney, where placed behind at tug, and taken into the river just prior to high tide. This of course would result in the tug and its tow reaching the far flung shore line at the head of the tide. Once there, instead of heading for a pre-marked out position at right angles to the shore, the tug would move from North to South along the shore, whereby upon reaching the allotted space, the tow would be slipped and the hulked vessel would have her bow guided shoreward of any exiting tethered vessels thus effectively adding her length and strength to the ever extending line of shore defences. Once positioned correctly, the bow and stern would be holed as before in order to ensure her final resting place was maintained. – God willing!
Recorded in 1930 Mercantile List
Recorded in 1951 Mercantile List
Located in Graham Farr 23rd June 1956 photo
Located in aerial photo looking North 1957
Located in aerial looking over Pine End 1957
Located and broken up in 13th May 1967 Norman Andrews photo
Located in Colin Green 1996 drawing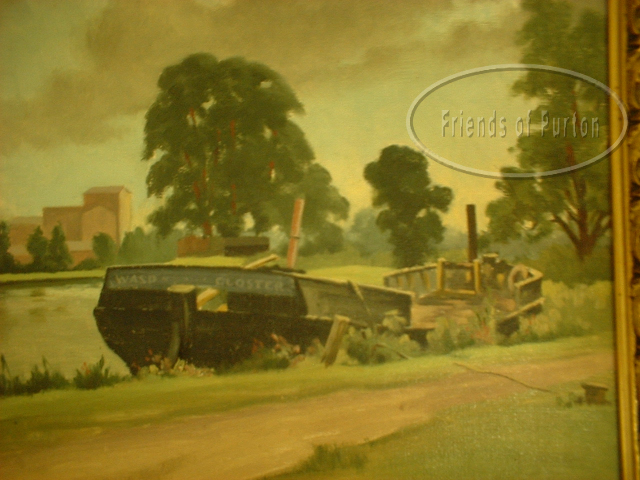 Wasp ancillary information
Lydney (Aerial 1955) (Sea Breezes Aug 1956) (CG 1956 photo)
Eric Aldridge
Skipper of Dredger No 4
Aged 84
River 1929 – 1960
Canal 1960 – 1984
Date of Interview 01.07.03
EA recalls that the Wasp was side clothed owned by Ogman Butt and is beached at Lydney
Doug Bennet
Name Wasp
Wood ketch
Official No 119633
Built 1895 Saul
Port of Reg Gloucester
Net Reg tons 36
Signal hoist none
Recorded as extant 1945
Graham Farr Index Card

Name                          P.O.R                                      Description                             Dates
Wasp                           Gloucester 1/06                       wd towing bge no rig              1895
Wd (JH says Tw)
Open
Dimensions     (1906) L. 68.5 B. 13.7 D. 4.2             Tonnage – (1906) G   N 36    B.D     
                                                                                    In excess of larchway 4 1/06
Builders          Saul, Fredrick Evans
Engines                                   By                   H.P.
Miscellaneous
O.N. 119633               Code
First Owners             
Changes         9.4.06 (64) Arthur .Samuel Rice Gloucester (08 13)
18.8.19 (64) Eli Ayland, Gloucester & Edwin George Smith, Gloster
25.10.21 (64) Louie May Goode, Woodford, wife of Douglas Frank Goode, Woodford , Essex
30.6.22 (64) Jacob Rice & Sons Ltd, Gloucester (in liq 19.10.34)
19.10.34 (64) JR & Son Ltd, St Owens Steam Wharf, Gloucester
27.5.49 (64) Walter Ralph Butt, Saul
Fate
Seen 22.9.35
At Saul yard Aug 1951
May 1954 towed to Lydney for breakwater
Seen at Lydney 23.9.56
Notes
Glos 1/9.4.06, 1, -, – , sq,cvl, – , – , wd (dim) (towing Bge)
Graham Farr via Robin Craig Archive
Extant in 1953
Wasp              Wd. Tw          1895-                           1895 Saul
1. Stern, at Gloucester end of G & B Canal,                                       14.9.49 (sm)
2. Bow quarter view, Gloucester Basin,                                            16.8.50 (sm)
3. Part of Stern, Saul Junction Lock                                                  29.9.51 (sm)
On bank at Lydney for conservation (ahead is Wasp ON 41402 Llantony and Onyx) 23.6.56 (sm)
Don Fowler
Sharpness to Gloucester Canal Superintendent
Born 1920 aged 83
1937 – 1975
date of interview 24.06.03
DF recall that his remit increased as a result of the British Waterway purchase of the Lydney Docks, hinterland and seven coal hoists from the South Wales Dock Company. DF furthermore stated that it soon became apparent the Lydney's dock wall and adjacent river bank were also prown to erosion and this resulted in the British Waterways abandonment, of 3 – 4 hulks on the foreshore to act as breakwaters, including the Gloucester registered lighters  Ripple, Llantony and the Wasp.
It was at this time that DF recalls as a result of his curiosity he became personally involved in the abandonment of the wooden barge Wasp on Lydney foreshore by the Tug Resolute skippered by Oliver Powel. Furthermore it was during this operation the DF realised the true extent of the dangers associated with the towing and beaching of an un seaworthy vessel during a spring tide upon a river that is noted for having the second highest tidal range in the world. DF recalls that the operation started ordinarily enough as the Resolute left Sharpness Dock 15 min prior to high-water with the view that they would reach the Lydney shore at High-water. However upon reaching mid river the crew of the Wasp reported to Capt. Powel that the barge had sprung various leaks and was rapidly filling with water. To wit, it was decided that the Tug should, as previous planned, continue steam at full pace toward the shore with the view to beaching the vessel successfully and thus gain payment. Failing that and should the vessel sink the barge crew were orders to "swim for the shore and the Resolute would pick them up whilst the tug deckhand was to remain on standbye to part the tow rope with an axe and thus prevent the loss of the Tug". All in a days work.    
Gloucester records office
D2460/2/3/1/10 (127)
28.01.1911
Following vessels delayed as a result of flooding (November 29th 1910) and being unable to transverse Westgate Bridge Wasp, J. & A. R. and Monarch
| | | | | | |
| --- | --- | --- | --- | --- | --- |
| Vessel Name & No. | First registered | Tonnage | First mention | Last mention | comments |
| Wasp 18160 | 2nd December 1855 | 183 | 1864 (2f) | 1872 (2f) | Not Lydney |
| Wasp | 1888 | 8 |   |   | Not Lydney |
Gloucester Records Office
D4292/1/9 D/08
Wasp (122)
119633 Saul 1895 Frederick Evans, Barge to be towed.
Wasp
119633 1949 Walter Butt talks about Jacob Rice as former owner
Gordon Mote
Name Wasp
Official No 119633
Built 1895 Saul
Owner A S Rice, Gloucester
Port of Reg Gloucester
Net Reg tons 36
Fate A Severn Trow hulked at Lydney 1954
Hugh Conway Jones
At Kew, I found that the schooner Dispatch of Inverness, Capt Evans, visited Gloucester several times during 1932, each time loading 190 tons salt for an Irish port. The lighter Hannah of Gloucester, Capt White, arrived at Sharpness from Avomouth with 133 tons wheat on 13 Jun 1934 and departed for Porlock with 100 tons coal on 23 Aug 1934. Both these entries were in RAIL 864/57. The registers stop before the Wasp's visit in 1950. 
 
Bob Marrows
Paul,
The three postcard size photo's of trows at Gloucester Docks were delivered yesterday.  Unfortunately, none are of high quality, but all have since received some Photoshop treatment.
The third trow proved not to be HIGRE but instead the former barge RIPPLE.  All three photographs are noted as having been taken in September 1950.
Additional notes on the backs of the prints read as follows:
J & AR – Jacob & Abraham Rice
Built 1887 by Evans of Saul
Abandoned on the mud at Sharpness April 1951
RIPPLE – Severn Trow open
Built 1895 at Gloucester
WASP
Built 1895
MNL 1930
Name Wasp
Official No 119630
Reg Gloucester (B)
Rig None
Built Saul 1896
Reg Ton 36
Owners Jacob Rice and Sons LMD, St Owens Steam Wharf , Gloucester
Arthur H Smith, 13 Howard St, Gloucester
MNL 1950
Name Wasp
Official No 119630
Reg Gloucester (B)
Rig None
Built Saul 1896
Reg Ton 36
Owners R Butt The Junction Saul, Gloucester
Joseph Rice
Others owned Hannah, Wasp, Spry,
Mr Saunders
Iidentified the vessels Nibley, Wasp. Hannah and Jonadab as being beached on the foreshore at Lydney.  S also recalls that a barge was placed on the foreshore in 1954.
Ray Savage
Skipper of the tug Speedwell and canal man
Born 1924
1946. – 1989
Date of interview 29.06.03
Rs recalls that the barge Wasp formally operated by Butts was beached at Lydney
Dicky Woodward Aged 80
1950 -1988
British Waterways as Suction Plant Operator
Born 13th December 1923
Date of interview 10 May 2003 and 8 June 2003
Flower of Severn not recognised "not down there" and neither was the Wasp which belonged to Butts from Frampton as DW believed it was at Lydney
M Watson Harbour Master
Mr M Watson's hand written entries in his Harbour Masters work books of 1952 -1955 in which he
details the following: 
1954 3 – 4 – 5 May Barges put into position on river front to prevent further erosion
1954 June Barges placed on river bank, work party Gardner, Watkins, Smith Vine & Prosser.
1954 Aug Barges placed on river bank work party Gardner, Watkins, Smith & Vine.
1954 Sept Two old mud barges placed on river bank work party Gardner, Watkins, Smith & Vine.