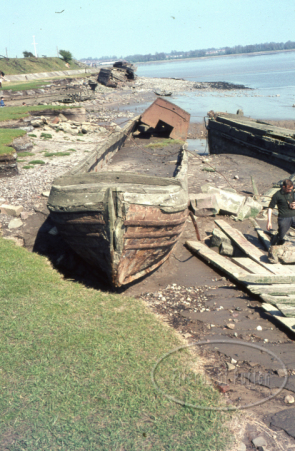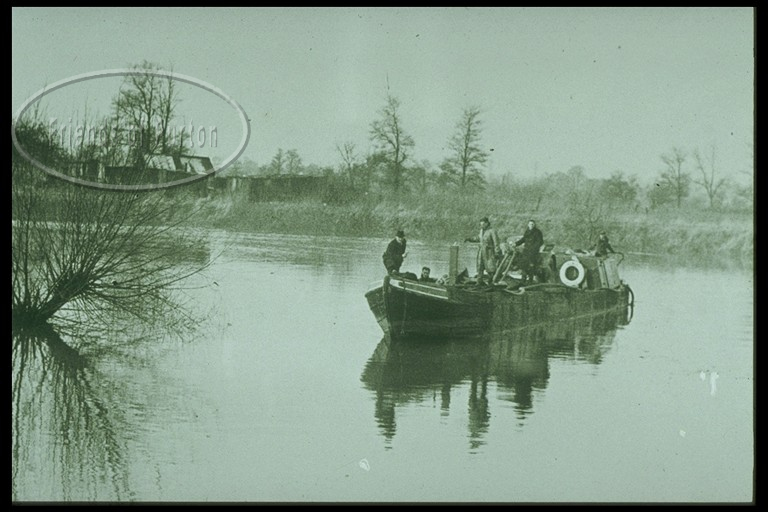 Venus

LPB identification number 15

Source

(FR)(LPB)(NG)(MW)

Name

P.O.R

Description

Dates

Venus

Wd. Canal boat

– c. 1955

Official number

Code

Builders: -

Dimensions

Length ft

Breadth ft

Depth ft

Tonnage – () Gross Net B.D

Engines

By N/A

H.P. N/A

Beached date

c.1955

Beached by

Miscellaneous

Notes

First Owners

Changes

River Severn Catchment Board (RSCB)
Venus ancillary information
Louis Paul Barnett 2019
What little that is known about this strange little timber canal boat is contained in below other that Fred Rowbotham record the vessel was once in the employ of the River Severn Catchment Board (RSCB) to transport men and plant the length and breadth of the River Severn whilst in engaged in bank protection work. Indeed one of the very few images of her has her utilising an onboard
compressor during one of her frequent engine failure to limp home. The keen eyed will note the warmly dressed pipe smoking Fred amidships. Outside of these scrape of info – more research is therefore definitely ongoing and will be added here as it is made available
Not recorded in 1930 Mercantile List
Not recorded in 1951 Mercantile List
Present in aerial looking North 1957
Present in aerial looking Pine End 1957
Possibly recorded in Graham Farr 1959 Photo
Located and broken up in 13th May 1967 Norman Andrews photo
Possibly recorded in Colin Greens 1996 chart
Nick G
Hi Paul,
Many thanks for the photos of Venus. I think you said that you thought she was a metal hulled boat, but close inspection of the pictures reveals her to be of wooden construction. The rusty metal which can be seen around the bows is thin steel sheet which is nailed on to protect the wood from ice damage when ice breaking in weather such as we are having now. It is known as ice plating and was standard practice on wooden narrow boats, usually fitted around the bow and along the waterline. Ice could cause considerable damage to an unprotected wooden hull, cutting into the wood and ripping out caulking along exposed seams.
The engine room casing is clearly steel.
If you want to know more about Venus there are people with detailed archives about narrow boat history; it may be possible to find out more about where she was built and who she worked for. The Historic Narrow Boat Owners Club might be able to help – www.hnboc.org.uk . There is also a man called Pete Harrison who has a lot of records about old narrow boats. I do not have his contact details but could probably get hold of him via my son.
You are very welcome to put a link to our Beatty website onto www.friendsofpurton.org.uk. My son looks after www.nbbeatty.co.uk ; I will ask him to reciprocate.
I will start looking for my 1987 photos of the Purton Hulks; don't hold your breath. It will probably be after Christmas before I have time to scan them.
Best wishes,
Nick G
MNL 1930
Not recorded
MNL 1951
Not recorded
M Watson Harbour Master
Mr M Watson's hand written entries in his Harbour Masters work books of 1952 -1955 in which he
details the following:
1954 3 – 4 – 5 May Barges put into position on river front to prevent further erosion
1954 June Barges placed on river bank, work party Gardner, Watkins, Smith Vine & Prosser.
1954 Aug Barges placed on river bank work party Gardner, Watkins, Smith & Vine.
1954 Sept Two old mud barges placed on river bank work party Gardner, Watkins, Smith & Vine.