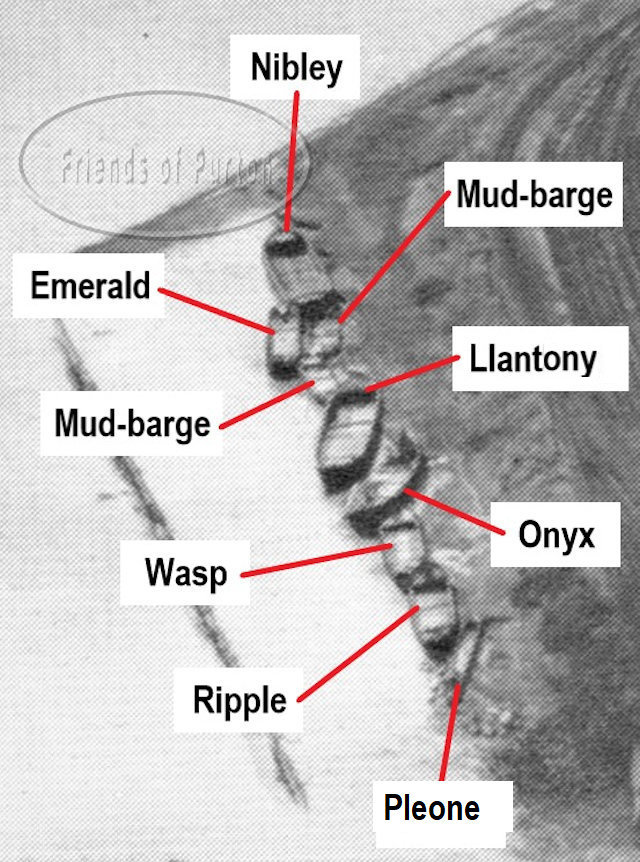 23 Unknown Mudbarge

LPB identification number 23

Source

(GF)(LPB)(MW)(CG)

Name

P.O.R

Description

Dates

Unknown Mudbarge

Mudbarge

-1954

Official number

Code

Builders:

Dimensions

Length

Breadth

Depth

Tonnage Gross Net B.D

Engines None

By

H.P.

Beached date

1954

Beached by

Miscellaneous

First Owners

Changes
It is a sad fact that owners of merchant vessels had no legal obligation to advise authorities upon the disposal of their ships, barges or lighters. Some of course did, however most choose not too and in turn left a legacy of unanswered questions and uncertainty. There will of course be a myriad of reason why this was the case be it financial, legal or indeed marital as many vessels of the day where often in owners next of kin or wives names, one can only assume for tax purposes or a desire not to pay death duties. Either way, other than various post 1954 images, detailing the south of the sites in which the two smaller barges are seen – very little is known of the vessels heritage original use or indeed whether they had arrived on the same tide as No 4 dredger as employed to empty Lydneys harbour and can of silt in 1954 – research will continue.
Lydney (Aerial 1955) (Sea Breezes Aug 1956) (CG 1956 photo)
Located in Graham Farr photo of 1956
Aerial looking North 1957
Aerial looking Pine End 1957
Located in Graham Farr 1959
Located in Colin Green 1996 chart
Image in Neil Parkhouse publication 'A Look Back at Lydney Dock'
M Watson Harbour Master
Mr M Watson's hand written entries in his Harbour Masters work books of 1952 -1955 in which he
details the following:
1954 3 – 4 – 5 May Barges put into position on river front to prevent further erosion
1954 June Barges placed on river bank, work party Gardner, Watkins, Smith Vine & Prosser.
1954 Aug Barges placed on river bank work party Gardner, Watkins, Smith & Vine.
1954 Sept Two old mud barges placed on river bank work party Gardner, Watkins, Smith & Vin