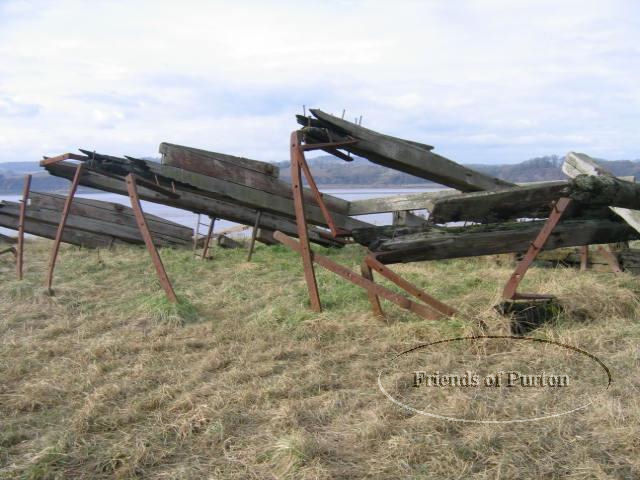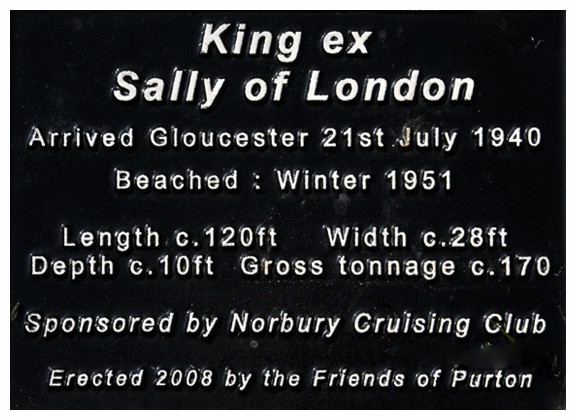 Visitors to the site often stand in wonderment at the sad remains of this mammoth vessel as beached in 1951 during a snowstorm. However the vast remains Sally of London latterly renamed King whilst in the employ of Gloucester based Foster Brothers, remain to tell us so much more and represent a narrow time band within British Ship building history, namely the construction of composite built ships that being timber and iron.
Sadly however, Sally has faired very badly despite her relatively safe position high and dry beyond the reach of all but the very highest of tides. Standing proud, the remains of this once mighty ship have been rendered to a mere skeleton of her former prowess, due to the wanton destruction of her green oak timbers in the search of both her phosphorous pins (18" weighing 28lbs) and copper nails that were once used to secure her long since removed copper sheaving.
Taken in isolation the construction techniques utilised by Sally's as yet unknown builders remains of vital importance however considered in unison they form an immensely significant advancement of British ship building.
The author further wishes to state that this fact had indeed been realised by the late David R MacGregor, whom during discussion, advised that these aforementioned pins were instrumental in obtaining elevated classification within Lloyds Register, courtesy of the renowned ships architect Alexander Stevens Jnr. who tirelessly lobbied to have composite built vessels registered to higher classification and not entered in the register as experimental.
Furthermore, Stevens successfully campaigned to have the use of phosphorous bronze pins recognised as a satisfactory measure of quality, and thus enabled these sturdy built vessels to operate within lucrative markets and carry higher value cargoes. Though virtually destroyed, The Sally remains an enigma and such is of great historical significance. Research is on going…
Sally

LPB Identification
No. 26

DRM Identification
No. 6

DJW Identification
No. 29

Source
(DW)(CG)(AJP)(DM)(LPB)(DMc)(JP)(RS)(RD)(ADW)(DW)
Name
P.o.R
Description
Dates
Sally of London
Renamed King
London
Gloucester 1940
Three masted composite schooner
? - 1951
Official No. Not known
Code Not known
Builders Not known
Dimensions (beached)
Length 119.8ft
Breath 27.9ft
Depths 9.4ft

Tonnage– (1940) Gross 170 ton Net Not known B.D


Engines None By N/A H.P. N/A
Beached date
c. 12th March 1951
Beached by
Capt Oliver Powell, John Perkins, Dick Woodward, Bunny Hunt, Bob Green, Bill Deacon
Miscellaneous
Alleged that deck timbers were used during the 1936 salvage of Dundrennan and incorporated into the King by Saul Shipwright Bob Davis for £12.
Ref. in Gloucester Citizen March 12th 1951 as Departure from Gloucester Docks to Avonmouth empty.

First Owners
Not known
Changes

1940 Foster Brothers, Gloucester
British Oil and Cake Mills (B.O.C.M), Gloucester

Sally's historic overview
What is known about The Sally is that very little is known about The Sally
Where was she built?
Who was her shipwright?
When was she laid down?
Who were her owners?
Where did she trade?
Why composite and phosphorous pins?
By virtue so much is yet to be learned whilst time remains steadfastly against us!
What is known albeit patchy may in some way help to unlock her secrets.
Allegedly hailing from London with tenuous Hull connections as a major peanut importing, The Sally arrived in Gloucester1940 in the command of Albert Tyrrel as a towed barge to work for the cities animal feed producers, Foster Brothers, at their quay side factory. That said it is purported that this former three master had originally been copper sheaved and thus may have been employed to warmer climes as inhabited by the dreaded torreaddoe worm, the scourge of deep water sailors the world over.
Renamed King and used in conjunction with the companies other aptly named Queen, it is alleged that the King had been adapted by Saul Shipwright, Bob Davis, to include four large deck hatches which in turn aided access to the vast storage hold below.
The problem of this vessel's mysterious past is further exacerbated as extensive research of Lloyds Registry by the author and of the Gloucester Archive by Hugh Conway Jones, has highlighted that the vessel was not registered in either record.
What is known is that the vessel was eventually beached in 1951 upon the transferral of waterborne cargo to land based transport and the sale of B.O.C.M to Paul's Animal Feed.
Once beached her great size twisted and her back was rapidly broken. Further it was only a matter of time before it was discovered that her timbers contained metals of great value and as such the King was completely destroyed by persistent arsonists who were insistent on total destruction for personal gain.
Is this the Sally? Ongoing research.
| | | | | | |
| --- | --- | --- | --- | --- | --- |
| Name | O.N. | P.O.R. | Built | MNL Supp | Notes |
| King | 89578 | London | Middlesbrough 1884 | 1888 MNL | Dandy 68 reg tons on Severn 11 12 16 28 |
Sally ancillary information
Graham Farr via Robin Craig not registered extant 1953
At Purton Sept 1957 via Rob Schopland as Large wood vessel (no name)
Bristol maritime enthusiast Jim Crissup identified the King as …Large wood vessel (no name)…as being located during his 1986 survey
Dean Heritage Centre Acc1986.146.1372 King
Hugh Conway Jones advised photos of King in Gloucester Archives ref. D7942/491.
Gloucester records office port arrivals
| | | | | | |
| --- | --- | --- | --- | --- | --- |
| Sally of London(lt) | 21.07.1940 | Lightfoot | Avonmouth | 170 | Linseed |
Gloucester Records Office
Albert Tyrrel 1st – Helmsmen
Norman Lightfoot – Helmsman
Clemment Turl – last skipper
Bob Davis – Shipwright
Capt. Oliver Powell – beaching tug Resolute Skipper
John Perkins – beaching tug Resolute crew
Dick Woodward – beaching bank party
Bill Deacon – beaching bank party
Bunny Hunt – beaching crew
Bob Green – beaching helmsmen
No reference as River King or King in any Mercantile Navy List
Sally brought to Gloucester 1940 by Norman Lightfoot employed by Foster Brothers.
Crew member of the Tugs Addie, Resolute and Primrose. Date of interview 19.06.03
Charlie identified this vessel by the name of King only and recalls she was a large wooden barge, originally, he believes, from the Caribbean. However he states that she was employed by British Oil and Cake Mills (B.O.C.M) formally Fosters of Gloucester to transport cargos of cattle feed, Linseed oil and monkey nuts from Avonmouth to its quayside factory. Furthermore he recalls that he once had a conversation with her original helmsman Mr Tyrrel, who advised that the King was originally "Copper sheaved, pitched pine with iron knees in her hold and lead bilge pipes". Charlie went on to suggest that she was deliberately destroyed by fire in order to salvage her phosphorus bronze pins and that she was beached directly south of the Severn trow Higre.
PURTON: KEY TO PLAN OF BOAT REMAINS Reference A. J. Parker (1998)
29. River King, barque (Macgregor 6); ex. Sally, three-masted schooner (Green).
Skipper of the tug Speedwell and canal man Date of interview 29.06.03
Ray identified this vessel by the term King and not River King and recalls towing her to Gloucester loaded with cotton seed and linseed for Fosters. Furthermore, due to her large size, Ray remembers that she was difficult to tow.
First physical description of unnamed remains exhibiting a large broken backed, black hulled vessel with red bulwarks by David in his June 1965 survey
British Waterways Suction Plant Operator. Date of interview 10 May 2003 & 8 June 2003
Dick claimed the King a former three master fell to pieces as a result of the removal by scrap men of phosphorous bronze rods (18" in length and 28lb in weight). These he states could be knocked out quite easily. The vessel was very sound and took some work to hole the hull as it was well constructed of a very hard timber, known as Green Heart which in turn, resulted in the damage/blunting of many saws and axes until holes were achieved by burning. Both the King and her sister ship and the Cheery (steel) were large vessels used to transport grain for Foster Brothers.