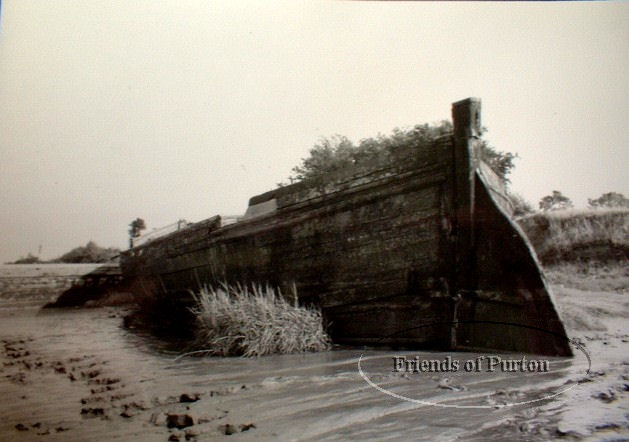 Made to last, built from oak hewn in the Forest of Dean, the Newark is something of an enigma in name and construction alike.
Originally built as a dock lighter in 1896 by Joseph Barnard at Monk Meadow, the Newark retains many of the features of the Gloucester shipwright's characteristic Stroudwater barge construction, with its canoe stern configuration. This design was commonplace on the local waterways of the day and became the one preferred by Barnard, who produced a series of successful canal working craft between 1890 and 1894, from his yard on the canal bank south of the city.
Evidence to support the ongoing success of the company can be seen in the following entries from the Gloucester Journal issues of the day:

Barnard Launches Lighter Pride (GJ 13 Dec 1890 p5c6)
The successful launch of a lighter was witnessed from Mr J Barnard's yard on the Canal Bank on Saturday. The lighter, an open one, was built to the order of the Gloucester and Sharpness Lighterage Co, is named the Pride and will carry a burden of probably 160 tons. This is the fourth built by the above firm.

Barnard Launches Lighter Northwich (GJ 23 Jan 1892 p5c4)
The fine open lighter Northwich was launched from Mr J W Barnard's yard on the Canal Bank on Wednesday afternoon. Length 100 ft, breadth 21 ft 6 in, depth of hold 6 ft 6 in. She will carry 260 tons, is built of the best English timber and specially designed for lightening vessels at Northwick Oaze or Kingroad. This is the fifth built to the order of Mr G T Beard, contractor, of Gloucester.
Barnard Launches Lighter Penarth (GJ 16 Jul 1892 p5c6)
On Saturday, the open lighter Penarth was launched from J Barnard's yard, Canal Bank. She will carry about 170 tons. She will be used for lightening at Northwick Oaze and if necessary take cargoes up the river. This is the sixth built to the order of Mr G T Beard of Gloucester.
In light of these successes and instant demand for his services, Barnard relocated to a larger yard in Monk Meadow, where, between 1894-1914, he continued to produce good quality timber craft for local companies, including the Dock Co. which, in 1907, commissioned the shipwright to build a mud flat (RAIL 864/7).
This prosperity was not to last and at the onset of the Great War, the spiralling demands the conflict placed on resources and men eventually led to reduced order bookings for timber built vessels. In light of dwindling orders, Barnard was eventually forced to cut his overheads and in 1919 it is recorded that the company continued to maintain a yard at west end of Monk Meadow Dock albeit with very little business being done. (RAIL 864 Misc).
Thus, another little firm, despite its hard work and productive ideas was consigned to history.
In compiling the piece above, The Friends are indebted to the research of Hugh Conway Jones for the historical detail.
Name Newark

LPB Identification
No. 3

DRM Identification
No. 20

AJP Identification
No. 2

Source
Newark(DM)(DMc)(CG)(AJP)(LPB)(GF)(DJW)
Name
P.o.R
Description
Dates
Newark
Gloucester 4/18

Wood barge Open double ended

1896- c.1956
Official No. 140476
Code N/A
Builders Joseph Barnard – Gloucester – 1896
Dimensions
Length 86.1 feet
Breath 20.5 feet
Depth 4.5 feet

Tonnage – ( ) Gross 58.95 tons Net 55.95 tons B.D Not known

Engines None
Beached date
June c.1956
Beached by
Capt Frank Savage, Dick Woodward, Johnny Wathon, Bill Deacon, Bunny Hunt, Bob Green
Miscellaneous

Newark unloading Viking in Sharpness Dock 12.06.37 (201 213/37)
Not seen in 26th March 1946 SMR aerial photograph
On bank at Purton c.1956
R.C. 20.6.55 Used as a breakwater Gloucester Register.

R.C. 1955 No longer Required MNL Supp


First Owners
G.T. Beard - 25 Commercial Rd. Gloucester
Changes

1919-1955 G T Beard Ltd, Gloucester

1955 -1958 B & N Cooke, Gloucester
Little is known about this vessel's history despite 59 years of active service in the employ of George Thomas Beard and his Gloucester to Sharpness lighterage dynasty. Started in c.1910 by George as G. T. Beard Ltd, the Company soon developed and became the official stevedore of Gloucester, after taking over the role of principal Lighterman from James Smart for the Dock Company. During this time Beards successfully amassed a large fleet of timber built barges, lighters and former sailing craft whilst engaged as Lighterage, Stevedore and Warehousing Contractor within the developing Gloucester dockside hinterland.
Sadly, fate took a hand and George died on Friday 5th November 1921 after falling down stairs at his home in Clarence House, Southgate St. Gloucester, aged 75. (Gloucester Reference Library). Following this, the Company duly passed to George's three surviving sons who, in turn, retained the Company name albeit adding the year 1929 to its title, and continued the successes of the past under the guidance of their father's long standing Barge Manager, John Cooke.
Time passed and in 1947 John Cooke eventually bought the business and handed the running of it over to his brother, Benjamin Cooke (later Lord Mayor of Gloucester, nominated 7th February 1963), retaining the G. T. Beard (1929) Ltd. name until 1952. It was at this time that Benjamin bought the Company, renamed it B & N Cooke Ltd. and proceeded to trade until eventual liquidation in 1955. This sounded the end for this proud little fleet, and Newark and many of her sisters were destined to sail the Severn one last time, to live out the remainder of their days as bank protection
Registered in 1930 Mercantile Navy List to G.T Beard
Registered MNL 1951
Dursley ancillary information
Graham Farr via Robin Craig registered extant 1953
Wooden barge built by Joseph Barnard (Cit 4 Feb 1971)
Joseph Barnard – Builder
George Thomas Beard – Gloucester owner
John Cooke – Gloucester Owner
Ben Cooke – last Gloucester owner
Capt. Frank Savage – beaching tug Primrose Skipper
Dick Woodward – beaching bank party
Johnny Wathon – beaching bank party
Bill Deaton – beaching bank party
Bunny Hunt – beaching crew
Bob Green – beaching helmsmen
Gloucester Appropriation Book D4292/4/3

Allotment Letter dated 27.02.1917

140476

Newark

55.95

DB

Glos

11.09.1918

First Reg

11.09.1918
Gloucester Closure Register-D4292-4-3
| | | | |
| --- | --- | --- | --- |
| Name of Ship | Port No & Year | Official No | Remarks |
| Newark | 4-1918 | 14047 | R 4/21 closed 20.6.55 |
Gloucester Records Office GRO Ref D4292(09)
Vessel Name: Newark

GRO Ref D4292 (08) (09) (10)

Official Number of Ship:140476

Notes R/DB/

Port Number: 4-1918

Port of Registry: Glos

British or Foreign Built: Glos 1896 J Barnard

Number of decks: Dent at both ends
Number of masts: -
Rigging: Not rigged
Stern:

Build: clinker
Galley: -
Head: None
Framework: Wood Dumb Barge Bulkhead 2

Tonnage: G 58.95 R 55.95
Tonnage under tonnage deck
Closed in space above the tonnage deck if any, vis space or spaces between deck Poop
Round house
Other enclosed spaces (if any) naming them
Gross tonnage, being registered tonnage, if a sailing ship
If a steamer deduct allowance for propelling power, as per other side
Registered tonnage if a steamer

No of Tons:

Length 86 – 1
Width 20 – 5
Depth 4 – 5

Name, Residence and Description of the owners, G. T. Beard
Numbers of Sixty Fourths
Shares held by each owner

Dated: 11.9.1918

Registry closed detail: CC and RC 20th June 1955
Vessel used as a breakwater
Ref no long required – advice received from owner.

Any other notes:
GRO D4292/1/09 (21)
Dated 11/9/1918
British
Dumb barge
86.1 length
No of decks: decked at both ends
No of mast none
Rigging not rigged
Stern elliptical
Build clinker
Galley none
Head none
Framework wood dumb barge
Bulkheads 2
Certificate cancelled and registry closed 20/6/1956, vessel used as breakwater. Registry no longer required advice received from owner
Former Assistant curator Gloucester Maritime Museum
David identified this vessel by name
Author. Date of interviews 20th March 2003 & 10th July 2003
David identified this vessel by name
Skipper of the tug Speedwell and canal operative
Date of interview 29.06.03
Newark
Ray identified this vessel by name
The National Waterway Museum Photos
54.0046 Wave leaving Gloucester with Newark in foreground 1900 – 1930
35.0005 c. 1950s Mrs Lloyd & son frames 23-24 in front of Envoy/Newark
PURTON: KEY TO PLAN OF BOAT REMAINS Reference A. J. Parker (1998)
2. Newark (Macgregor 20). Barge (AJP in SMR484)
Physical description as "Not a Trow" and name noted by DJW sometime between 1957 and 1961
Further recorded in his 1965 list as "Wooden double ended vessel – Newark