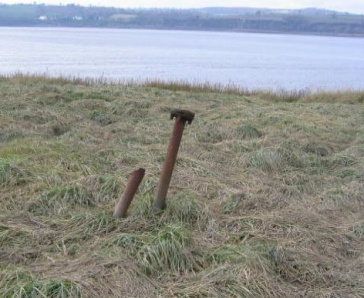 Born of mighty Irish Oaks, the aptly named the Catherine Ellen (later Katherine Ellen) came into the world in troubled times.  Originally conceived to ply between the Emerald Isle and the industrious ports of the Welsh and English west coast, this little gallant two master was to become both a lynch pin within Irish commerse and Irish folk law only to end her days forgotten forlorned and forsaken on a distant shore.
Active during WWI and damaged by enemy sub, damaged by wind and waves, allegedly imprisoned by royalist forces 1921 during the fight for Irish Independence only to be, spirited away to waters a new and sadly destroyed at the hands of an arsonist. Although the majority of the vessel's upper section has been raised to the ground, recent gradiometry readings have pinpointed and identified that vast quantities of this fearless vessel lies buried and, therefore, persevered in several feet of Severn silt.
A fighter she remains
April 1921 Reprisals in Dungarvan
Notice served on Patrick Hehir, Michael Fraher (son of Daniel Fraher, who is detained), M. Moloney, seed and hardware merchant, Bridge St, Mrs Boyle, O'Connell St and Thomas Casey, Assistant Secretary of County Council, that unless they pay fines of £100, all the contents of their houses would be destroyed. The only payer was Michael Fraher, all the others had their furniture smashed. Other houses wrecked included houses near to the ambush. Ballycoe House, home of Mrs Dunlea, was destroyed. Houses belonging to Mrs Morrisey and Mrs English were wrecked. Fine houses in Abbeyside burned down – including Strand Hotel owned by Miss Fitzgerald.
Katherine Ellen renamed Catherine Ellen

LPB Identification No.
DRM Identification No. 8
AJP Identification No. 27
Source

(LPB)(DN)(GF)
Name
Catherine Ellen
Katherine Ellen

P.o.R
Description
Dates
Catherine Ellen
Katherine Ellen

Liverpool 112/66
Carnarvon 3/72
Aberdeen 21/79
Chester 4/91
Skibbereen

Bristol

2 masted wd Schooner

now a lighter

1862- 1952
(5 months)

Official No. 29444
Code QFPV
Builders White of Waterford, Ireland
Dimensions
Length
Breath
Depths
1862
79.0ft
21.1ft
10.5ft
1872
79.2ft
21.7ft
11.1ft
1891
79.2ft
21.7ft
11.1ft

Tonnage
(1864) Gross 111 ton Net 95.79 ton B.D 119 ton
(1872) Gross 111.14 ton Net
(1891) Gross 111.14 ton Net 99.19 ton

Engines By H.P. None
Beached date
7th August 1952
Beached by
Capt Oliver Powel, Charlie Langford, Dick Woodward, Johnny Wathon Bunny Hunt, Bob Green, Bill Deaton
Miscellaneous
c.f. drp 67 & 71 ptIB 1dk (1903/4)
First Owners
(64) J L Puxley of Bearhaven mines in Cork (1863/4 - 67/8) (Hart)
Changes

Buckingham (1868/9 - 71/2) (R Griffiths 70)
27.1.72 (32) Robert Griffiths, (16) Robert Roberts & (16) mars, Newborough (R Griffiths 71/2 - 75/6 LPB)
R Roberts (77/8 79/80)
11.11.79 (64) Bon Accord Slate Merchant Co., Ltd., Aberdeen (1880 - 91/2)
1.12.79 To Abdn (total abandonment) R.C.
12.6.91 (64) David Marrow (1891 - 95/6)
26.6.95 (64) Michael Moloney Waterford (1895/6 - 1908/9)
13.1.08 (64) Kate Moloney (widow) Dungarvon (1908/9 - 1919/20)
21.2.19 (64) A. Moloney & Sons, Ltd Dungarvon (1919/20 - 1920/1)
30.12.20 (64) George Head ltrmn Bristol (1920/1 - 1928/9)
19.5.28 R.C converted to lighter
1928 Benjamin Perry & Son, Bristol
An open letter David Wheeler which appeared in Soundings, the quarterly Journal of Magazine of The South West Maritime History Society.
I can find no mention of a vessel of this name in any of my source material and I think that may mean that she was not under sail after 1935. In the photo, we see part of her stern, and a short section of the port side including part of the hull below the bulwarks. The rudder is clearly 'out of doors'. The rudderpost is squared, with I think a band just below the head. The bolts project astern. There is a small cabin companion. To accommodate this, the tiller is a long metal pole, cranked at least once and I suspect twice. I think that the end of the tiller may be of slightly larger diameter than the remainder of it. To my mind this is an unusual tiller to find in a wooden vessel. Forward of the stovepipe is a substantial pump. I believe there to be two. Forward of that is a square object which might be a tank. That is adjacent to the aft hatch coaming. This has a distinct flat triangle shape. Below the level of the bulwarks it is difficult to see much but I think that the transom is flat.
There is another vessel lying alongside the Katherine Ellen. This makes it difficult to distinguish clearly, but I believe that the transom curves sharply in towards the stern post. It appears rather shallow. It is not arounded 'D' stern. There is quite a marked strake or band round the stern at just below deck level. It looks almost doubled but what I think this may be is a timber strake overlaid by some sort of fender such as rope. The line is not quite straight across the stern. Whatever it is, it is quite marked.
You have sent me several photos of my Vessel 111. The photos are all of the starboard side of the hull and the stern. The ones I have found most useful are photos 9.2, 9.5 and 9.6. I have also referred to my own sketch made in 1965. These show a wooden vessel without bulwarks. Comparing these photos with that of Katherine Ellen. I cannot find any obvious inconsistencies, although the limitations are obvious. The stern, a flat shallow transom is similar. There is a strake across the stern, which again looks much the same. These are not unusual features. The hatch coamings are similar in outline to the one we can see in the Katherine Ellen photo albeit shrouded in a tarpaulin. I thought the coamings distinctive in 1965 in that I can remember them now even after all these years.
In photo 9.6 taken from the Higre you can see something on the deck just beneath the end of the tiller. I believe this is a pump assembly, such as can be seen in the Katherine Ellen photo. But what I find most convincing is the length and shape of the tiller. I can find no anomaly between the tiller shown in the Bristol Docks photo and the tiller seen to advantage in photo 9.6. They look to me to be the same.
I take note of the fact that Katherine Ellen was in Bristol Docks in 1950. I saw Vessel 111 on occasions between 1957 and 1965 when I did my own sketch. But I cannot say what her condition was or whether throughout that time she was on Purton Banks. I do not recall her as a new arrival, but before 1965, I only recorded in my lists those vessels which I could identify either by name or registered number. In 1965 however it was clear that she was in better condition than most and that gives some indication that she was one of the later vessels to be placed there.
A Bristol Enigma: John Oliver Maggs Bargeman & Benjamin Perry employee Born April 1931, Aged 74
Dear Paul Barnett,
I was interested to read your article in the Sea Breezes. I am an ex seafarer retired, in my early days I worked on tugs running to Sharpness & Lydney, also on British Waterways motor barges running to all the Bristol Channel ports. During my time on the tugs I worked for Benjamin Perry & Sons who owned a number of wooden barges ex trows ie. Ada & Kathrine Ellen, we towed some of these to Sharpness and the waterways tug towed them to Purton. The tug was an ex TID named by Perrys the BP2 later changed to Salisbury. We were in the Severn the night the grainship Rameses II broke adrift from tugs while swinging below Sharpness she drifted onto Lydney sands and became a total loss. If I can be of any assistance to you please e mail or phone me.
Regards John
John vividly recalls the Katherine Ellen and states that she was at Bristol during his early days in the docks until she was taken to Sharpness by the Benjamin Perry Tug Salisbury, and beached at Purton by a Sharpness tug and crew. At this time, he is unable to clarify either the receiving tug or skipper however he is sure it was a river tug such as Primrose Addie or Resolute as the handover actually took place in the River Severn. Research has now indicated that it was the Tug Primrose under the command of Captain Frank Savage.
This was made all the more hazardous as further recalls that she had been a ketch/sailing vessel and that she really didn't have any side decks. John also states that he believes this design feature proved useful and was duly copied by Perry's in several of its Charles Hills commissioned steel barges for use in the tobacco industry i.e. Aston & Whitson. This in turn allowed each barge to be loaded with two cast tierces within the confines of the hold and a further three above it.
Evidence to support this claim can be seen in the absence of side decks and hatches covers and the utilisation of side cloths on several Perry owned vessels. John further advised that as a lot of the steel barges did not have hatches they utilised lightweight centre poles and tarpaulin sheeting which were secured on short hatch combings to form a water tight seal
John could not say how or when the vessel was actually beached but he stated that Jack Carol, the company Shipwright, accompanied the vessel on her final voyage and was responsible for cutting large square holes in her hull timbers to ensure permanent beaching and that she must have been temporally stored along side Kings Wharf prior to taking up river. This would have been possible due to limited traffic at the adjacent wharf at Redcliff Bridge, which was owned by Bristol Cooperation who utilised the hinterland for the storage of sand and stone and a stonemason shed. More recently the wharf which has become known as the Sanitary Wharf is owned by Bristol City Council and is the site were the replica, Mathew, was built.
John further recalled that the skipper/only crew member of the Katherine Ellen was a Gloucester man called Captain William Brick and that he was renowned for being a clean & tidy man in his navy blue suit. As a result John stated that the elderly Katherine Ellen' over sized aft cabin was always in good order tidy and that it benefited from its large deckhead skylight.
He further highlights this whilst viewing the Northcoat 1950 postcard, and identifies the said companionway, the hold hatch (via a straight ladder) and the T.R. Brown tug Medway which can be seen opposite along side the Bathurst Wharf with Prince St Bridge in the background. Furthermore and whilst describing the scene he pointed out the vessels deck located bilge pump and states "That s a deluge pump, good pumps them, all the barges had that type of pump, they were simple to use as they had a valve with a leather flap that once primed with a bucket of water, it would draw water on both the up and down stroke". John also commented on the stove pipe and remarked that it may have been a newly fitted as it was "a nice bit of bright galvanised steel" and he went on to state that the stove was fitted flush to the cabin bulk head. Finally John went on to confirm the Katherine Ellen's existence at Purton by identifying the two protruding iron pipe remains by stating that he believes one (with the flange) was for the bilge pump and the other may have been used a sounding pipe for dipping the bilges.
That said, John recalls that the Katherine Ellen's early days were primarily spent transporting the largest grain bags called a Bushel at Co-op Mills in Avonmouth for Weston Counties Mills at Redcliff Bridge Bristol. That aside and due to the vessels advanced age and lack of engine she was often tied up at Kings Wharf for long period of time and used albeit infrequently to transport low value cargo such as grain. This was partly due to inflated insurance premiums for high value cargo such as tobacco and partly due the constant risk of leaks. John fondly recalls spending time employed in this trade and states he often had to smack skulking rats with a shovel in the final stages of unloading cargos by hand.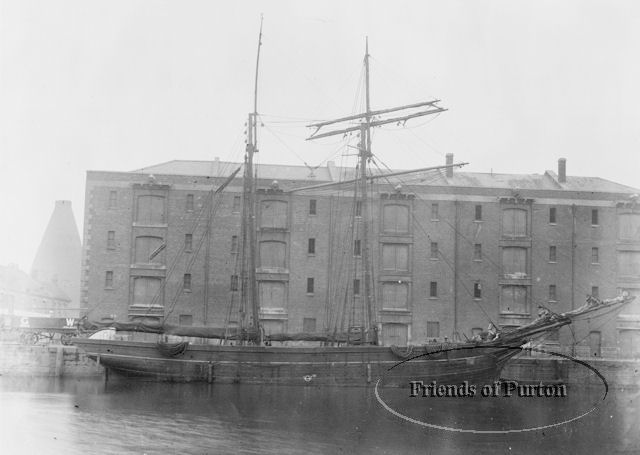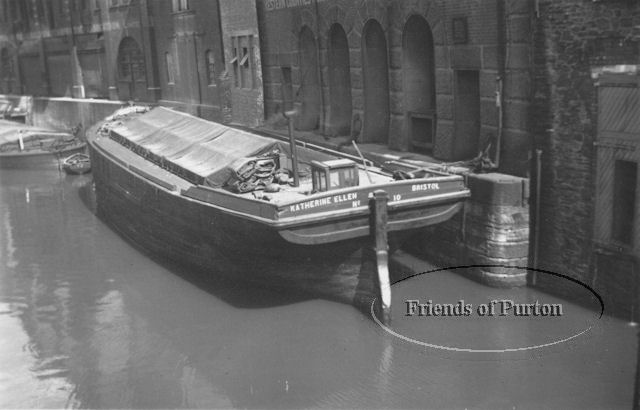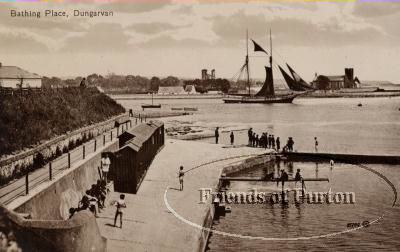 1863 – 68Registered in LL as Catherine Ellen
Carn 3/27.1.72 1,2,Sr,sq,cvl – fb wd
1874 – 75 Registered in LL as Kate Ellen
Chester 4/12.6.91 1,2,Sr,sq,cvl – fb wd
Last reg in LL 1928/9 as Katherine Ellen via George Head, Bristol
1885 Reg Aberdeen, owned by Bon Accord Slate Merchants Ltd running to Port Madoc/Borth SW (contact Gwent Council Maritime Archive)(1885 MNL)
1906 Reg Chester, Owner Michael Moloney Dungarven (1906 MNL)
1914 Reg Chester, Manager /owner Mrs Kate Moloney Dungarven (1914 MNL)
Last reg in MNL 1928 as Katherine Ellen via George Head, Bristol
| | | |
| --- | --- | --- |
| Katherine Ellen | 29444 | Crew lists, Flintshire RO, 1891-1913 |
| Katherine Ellen | 29444 | Crew lists, Gwynedd AS, Caernarfon |
1881 census Ships in Inverness, Nairn & Elgin, Scotland
Kilmuir, Inverness
Vessel: Katherine Ellen
John Williams
William Perry
Josnay Evans
Lluvelen Jones
Thonas Davies
Unmarried
Unmarried
Unmarried
Unmarried
Unmarried
Wales
Wales
Wales
Wales
Wales
Master Mariner
Mate
A B Seaman
A B Seaman
Ord. Seaman
Surname

Forename

Place of Birth

Year of Birth

CC or Cs No.

Died/Pens.

Reg.Ticket

County of Birth

Williams

John

Port Dinorwic?

1854

CAE

[1881 census on vessel 'Katherin Ellen' at Portree, Inverness, Scotland. John Williams, unmarried, aged 27, born Port Dinorare, Wales, Master mariner].

Parry

William

Wales

1856

WAL

[1881 census on vessel 'Katherin Ellen' at Portree, Inverness, Scotland. William Parry, married, aged 25, born Wales, mate].
Youghal and District - 1901 census index
| | | | | | |
| --- | --- | --- | --- | --- | --- |
| Surname | First names | Street or Town | Parish | Notes | File no. |
| Foley | Patrick | Youghal Harbour | Youghal | Schooner Catherine Ellen | 817279 |
Dungarvon Harbour Sailing Register
Courtesy Margaret at Dungarvan Archive
The 1912 to 1919 register held in Dungarvon Archive holds both arrivals and sailings records however there is very little information within the record.  The Katherine Ellen is mentioned many times, sadly there is either no information for her under the observations column or the observation is "Cargo", other than for one date which is April 26 1917 where observations reads "Coal and Cement "( from Arrivals register)
14th August 1915 to 25th November 1921 import records.
Within this register there is a record of the Katherine Ellen sailing on the following dates;
| | | |
| --- | --- | --- |
| Date | Master | Cargo |
| October 16 1915 | Flynn | maize |
| November 27 1915 | Flynn | coal |
| February 5 1916 | Whelan | coal |
| July 1 1916 | Flynn | coal |
| August 19 1916 | Flynn | coal |
| September 30 1916 | Flynn | coal |
| December 9th 1916 | Flynn | coal |
| January 20 1917 | Flynn | coal |
| April 28 1917 | Flynn | general |
| July 7 1917 | Flynn | coal |
| August 18 1917 | Flynn | coal |
| October 6 1917 | Flynn | coal |
| December 15 1917 | Flynn | coal |
| February 2 1918 | Flynn | coal |
| March 16 1918 | Flynn | coal |
| April 20 1918 | Flynn | coal |
| June 1 1918 | Flynn | coal |
| July 6 1918 | Flynn | Coal (attacked by u boat) |
| September 7 1918 | Flynn | coal |
| October19 1918 | Flynn | coal |
| February 1 1919 | Flynn | coal |
| April 5 1919 | Flynn | coal and salt |
| May 24 1919 | Flynn | coal |
| July 12 1919 | Flynn | Light from B.Goul (Bailenagoul is a small village just across the Dungarvon harbour) (oats exported) |
| August 16 1919 | Flynn | coal |
| November 22 1919 | Flynn | coal (oats exported) |
| February 28 1920 | Hally | coal (oats exported) |
| April 10 1920 | Hally | Coal (oats exported 17th April 1920) |
| May 22 1920 | Hally | coal (oats exported) |
| June 19 1920 | Hally | coal (oats exported) |
| July 10 1920 | Hally | coal (pitwood exported) |
| August 21 1920 | Hally | coal (damage and towed to Milford Haven) |
| no further sailings | | |
Departure/Export Records
The Katherine Ellen is mentioned in the 31st May 1919 to 26th March 1927 export records
Port of Dungarvan. Exports for the week ending Saturday, July, 12 1919.
| | | | |
| --- | --- | --- | --- |
| Date | Master | Cargo | Skipper |
| July 12 1919 | Flynn | oats | K. Moloney |
| October 11 1919 | Flynn | oats | K. Moloney |
| November 22 1919 | Hally | oats | K. Moloney |
| February 28 1920 | Hally | oats | K.Moloney |
| April 17 1920 | Hally | oats | K Moloney |
| May 22 1920 | Hally | oats | M. Barry |
| June 19 1920 | Hally | oats | M. Barry |
| July 10 1920 | Halley | pitwood | S. Morris |
| December 4 1920 | Hally | oats | K. Moloney |
| no further sailings | | | |
The Catherine Ellen is not mentioned in the 2nd April 1927 to 17th August 1935 export records
The Catherine Ellen is not mentioned in the 14th June 1941 to17th December 1954 export records.
Transcription of "Note of Protest": Catherine Ellen. 8th December 1920.
Master: Michael Halley. Schooner of Chester, 95 tons reg.;
Depart Dungarvan (Ireland) bound Bristol, 4th December 1920.
Arrived in port 6th December1920. Cargo: Oats in bulk.
Having experienced bad weather and very rough seas breaking over the vessel, at seven thirty pm, on the fourth of December, when about ten miles south east of Coningbeg Lightship. Foremast went over carrying away mainmast. These fell over the starboard side and we had to cut away to save the vessel as I was afraid that the broken spars would pierce the vessel. We burnt flares and bedding all we had, but no assistance came to us until Sunday afternoon at two thirty, when the steam trawler "Caliban" came up towards us and towed us into Milford Haven. The "Caliban" towed us from about three pm Sunday until two o'clock next morning, when we arrived at Milford Haven.
At my request the "Caliban" took us off our own vessel at two thirty Saturday afternoon because our vessel was labouring heavily in the trough of the sea, and we had no control of her, and also one of my crew was burnt and further had his leg badly hurt. My vessel was riding on the broken spars for some time before we could cut away. All rigging, sails and running gear was lost off the vessel.
(Source http://www.llangibby.eclipse.co.uk/milfordtrawlers/accidents%20&%20incidents/caliban.htm)
The Catherine Ellen: Extract from the book 'A maritime and general history of Dungarvan 1690 - 1978'.
Printed by Dungarvan Observer 1979 pp8-9 Courtesy John Young
Dungarvan has been renowned for generations for her sailing and fishing vessels. One of her sailing schooners that made the headlines was the beautiful two masted schooner the Catherine Ellen.
She first got the taste of salt water at Waterford in the year 1862 and her dimensions are as a follows: 111tons gross, 95 tons net, 79ft. x 21ft. x10.5ft. deep. In Dungarvan she was owned by the Moloney family, who were the most renowned of Dungarvan ship-owners and were well known on either side of the channel.
One of the most unusual occurrences ever to happen to a sailing vessel took place on board the Catherine Ellen during her sea going career. The mast were blown out of the ship when she lurched suddenly leaving her completely at the mercy of the elements and the sea. The crew members had to burn items of bedding to attract the attention of passing ships. Eventually they got towed back to port where the Catherine Ellen was made sea worthy again.
The following list of men who went to sea made a living before the mast:
Capt. Patrick Foley
Capt George Flynn
Mate John Kiely of Dungarvan
Crew Willie Murray
David Foley, Shell Cottage,
John Pender
Primer Flaherty
P. Nagle
Michael Dwyer
Michael Kenneally
Willie Terry
John Joe Young
William Coleman Barrack Street, Dungarvan
Michael Hally
All of these men sailed on the Catherine Ellen and other schooners of Dungarvan
If one is passing the Shell Cottage in Abbeyside, one can observe a sketch made from shells by the late Capt. David Foley and his wife. Capt Foley sailed on the Catherine Ellen at the beginning of his sea going career. Mrs Foley keeps the shells and numerous other ornamental objects in the gardens in superb condition. Mrs Foley also has a huge selection of ornamental vases etc, which she sells to the many thousands of visitors that make the annual visit to the biggest display of shells in these Islands. The proceeds from the sale of these vases etc. go to the work of the mission.
Catherine Ellen ancillary information
01.12.79 To Abdn (total abandonment) R.C.
Converted to lighter 19.5.28 R.C.
11.7.18 Attacked by sub in St. Georges Channel was not sunk by gunfire and after towed in
04.12.20 Rigging lost on route Dungarvon to Bristol towed to Milford Haven
10.04.47 Graham Farr photographed and recorded the vessel as 'Katherine Ellen wd Lighter ex Sr 1862 Waterford' at Redcliff Back
Easter 1950 Barge located at Kings Wharf
Barge at Avonmouth
07/08/52 Beached at Purton
Graham Farr via Robin Craig registered not extant 1953
Located as unknown vessel at Purton in Rob Schopland' photo of 21st September 1957.
Bristol maritime enthusiast Jim Crissup recorded the unidentified sailing vessel as one of '2 open decked trows' during his 1986 survey.
Katherine Ellen' arrivals at the Port of Bridgwater. Courtesy the Blake Museum
| | | | | | |
| --- | --- | --- | --- | --- | --- |
| Name | Date | Skipper | From | Tons | Dues |
| Katherine Ellen | 22.12.1894 | Sully | Swansea | 99 | 9s 3d |
Mr Walpole ships designer
Samuel T Bennet Shipwright
H L Luxley first owner
Capt Hart first skipper
Capt. John Williams former skipper
William Parry former mate
Bon Accord Slate Merchant Co., Ltd., former owners
Capt.Patrick Foley former skipper
Capt. Flynn former skipper
Capt. Whelan former skipper
Michael Moloney former owner
Mrs Kate Moloney former owner
Capt. David Foley former crew
George Head and Sons former owner
Benjamin Perry & Sons former owner
John Maggs Bristol tug crew
Capt. Oliver Powell – beaching tug Resolute Skipper
Charles Langford – tug crew
Dick Woodward – beaching bank party
Johnny Wathon – beaching bank party
Bill Deaton – beaching bank party
Bunny Hunt – beaching crew
Bob Green – beaching helmsmen
Chairman of South West Maritime History Society
Off. No. 29444 Built Waterford 1862, schooner rig (approx length 80-88 ft) Q.F.P.N, 99grt 95 net
1885 Reg Aberdeen, owned by Bon Accord Slate Merchants Ltd running to Port Madoc/ Borth SW (contact Gwent Council Maritime Archive) (1885 MNL)
1906 Reg Chester, Owner Michael Moloney Dungarven (1906 MNL)
1914 Reg Chester, Manager /owner Mrs Kate Moloney Dungarven (1914 MNL)
David's notes stated that all vessels over 4 ton were recorded in the Mercantile Navy List and were first introduced in 1855. However at this time they only recorded the Master/crew details. This upon the purchase by Lloyds in 1860, changed to include shipping details and Board of Trade information as used by the Registry General of Shipping (Llantrsant). David further stated that in his book Schooner Sunset he conducted an snap shot of all extant schooners in the years 1935 and 1945 and found that the Katherine Ellen was not registered as a schooner thus suggesting that she was employed as an unrigged vessel. Lloyds list do not exist between the years 1860 -1870
Crew member of the Tugs Addie, Resolute and Primrose. Date of interview 19.06.03
Charlie failed to identify this vessel by name however he felt that she was a Bristol barge and this thought could be supported by the presence of her apexes hatch covers. He also states following questioning, that she is not the former trow Excelsior as he had known that vessel trow and did not recognise this vessel.
Despite the fact that Charlie may have been part of the beaching party, her identity escapes him. This the author believes, is possibly due to all discernable features/marking, such as the name boards, figure head and official numbers being removed by the Bristol crew, prior to delivery at Sharpness for beaching.
Author. Date of interviews 20th March 2003 & 10th July 2003
David advised that the unknown vessel was one of two very large barges that had steel cross beams/hatches. Furthermore he noted that she exhibited a Plimsoll line with Board of Trade and Freshwater marks and was possibly ketch rigged as she had four chain plates fore and three chain plates aft.
Margaret Dungarvon Archive
Archivist
(thoughts to myself!). David Foley of Shell Cottage must never have been the Captain as stated within the Shell Cottage Article. He must have been mixed up with Capt. Patrick Foley—whom I haven't come across yet either, maybe there in the earlier days. There is an earlier arrivals ledger–tomorrow I will check but I think very little info is included.
PURTON: KEY TO PLAN OF BOAT REMAINS Reference A. J. Parker (1998)
27. Uncertain, probably 'ex-ketch (?) (Macgregor 8). (AJP in SMR484)
Central Library Waterford, 12 May 2005, Subject: Waterford Schooner Katherine Ellen.
Dear Mr Barnett,
Thank you for your recent letter in connection with the Schooner Katherine Ellen. In 2001, Bill Irish an authority in the field of local maritime history, published a book entitled Shipbuilding in Waterford 1820 –1882 – A historical, technical and pictorial study. Wordwell Ltd, PO BOX 69, Bray, Co Wicklow published it. It contains two small references to the Katherine Ellen.
" H L Luxley, owner of the Berehaven mines in Cork, had the Katherine Ellen launched for his copper ore trade in 1862. A Schooner of 111 tons and almost 80ft long, she traded between Berehaven and Swansea. Designed by Mr Walpole, late superintendent at White's, her construction was effected and completed by Samuel T Bennet, newly appointed to White's. The Katherine Ellen was still trading in 1878". © Bill Irish page 41
"After two years Mr Walpole was replaced by Samuel T Bennet in 1862.His departure was very hasty: Walpole had designed the Katherine Ellen only for it to be constructed and finished off by Mr Bennet". © Bill Irish page 76.
I searched the other records in the Local Studies Room and failed to find any further reference in either the newspapers of the time or the Waterford Shipping Register 1877-1976 [Ref MFA 3/3]. The National Archives in Dublin has records for the period prior to 1877 and can be contacted directly in this regard.
Yours truly,
Donal Quigley
Skipper of the tug Speedwell
Although Ray could not identify the Katherine Ellen, he was sure that "some Bristol barges are there as well" and that several had been brought up from Bristol docks and abandoned on the Purton Bank. Furthermore following reviewing various photos of this vessel, Ray confirmed that she had been a Bristol barge based on her distinct hatch combings unique to that region.
Scottish National Records Office
Bon Accord Slate Merchants Co. Ltd a builders merchants (GB/NNAF/B15759)
1870 -1889 company records exist via records ref (s) 3050, NRA catalogue no NRA 25422 at National Registry of Aberdeen addressed to Tessa Spencer HM General Register House, Edinburgh EHI3YY Scot 01315351344 or enquiries@nas.gov.uk
David noted the Plimsoll line with Board of Trade and Freshwater marked on Ketch with four Chain plates fore/three chain plates aft not schooner in 1965 at which time his schematic diagram states 'Wooden ketch boxed'
British Waterways as Suction Plant Operator
Dick was unsure of her name but stated that it was double barrelled something like the Diana Mary
(This is not the case as the Diana Mary is of steel construction, LPB), however he was sure she had come from Bristol in the early 1950s. Furthermore he advises that she was completely lost as a result of a fire that had been deliberately set to burn hedge cuttings by a tenant farmer.