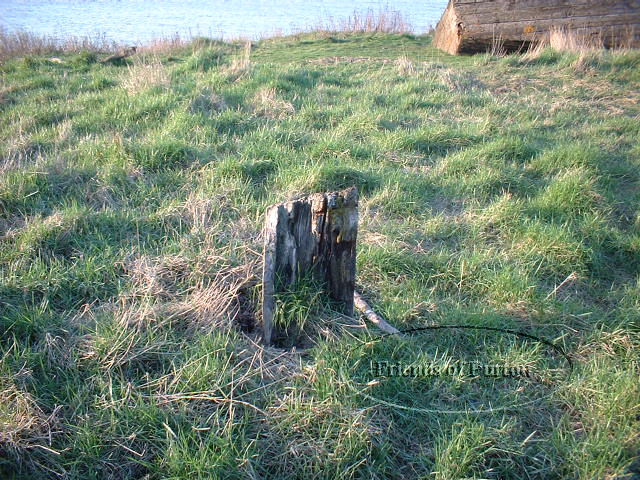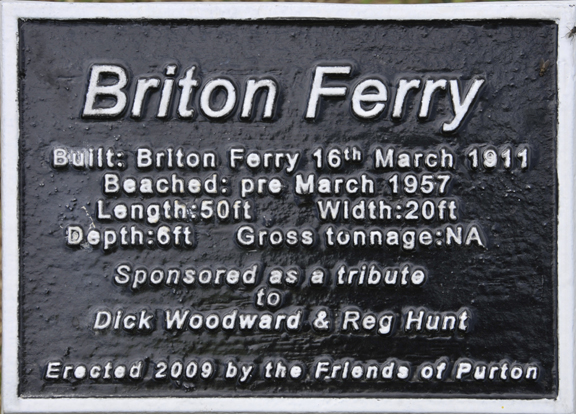 A versatile vessel, Briton Ferry was purchased from the Neath Harbour Board, in 1911, to work as a floating grab-dredging crane for the Gloucester and Berkeley Canal Co., emptying first wooden, later metal, mud hoppers from hopper carrying lighters. The crane was ideally suited for dredging awkward places, such as around lock gates, and for repairs to the canal bank – piling, using a monkey hammer and back filling.
It is an early example of a canal steam grab-dredger, incorporating an upright steam boiler arrangement, with four independent hand winches to keep it on station.
In 1927 a longer jib was fitted to adapt it for discharging cargo,* increasing the number of rôles in which she could be employed. Her specification enabled her to assist in places where the newer, larger dredging cranes, later added to the fleet, were unable to operate.
(* Glos Archives, Eng Rep 1927, D2460/2/3/1/14).
Nothing remains of the two inch oak-planked decking, evident in photographs of the time, which has been reported as having been removed by opportunist timber hunters, soon after the pontoon was beached on the banks of the River Severn, in 1957. As a result, her holds quickly backfilled with silt from the wash of the tides and it is likely that the hull timbers will have been preserved, effectively, by estuarine deposits. She now rests within the littoral zone, safe from all bar the highest tides, making it feasible that a large section of her timbers remain buried.
Briton Ferry

LPB Identification
No. 17

DRM Identification
No. N/A

AJP Identification
No. 18

Source
(DW) (LPB) (DF)
Name
P.o.R
Description
Dates
Briton Ferry
Not Gloucester registered
Steam grab dredger crane
Wood pontoon

Crane 1903
Grab dredger c. 1911

Official No. None
Code None
Builders Neath Harbour Commission & (crane) Priestman Bros. of Hull and London
Dimensions
Length 50 ft
Breath 29.1ft
Depths 6ft

Tonnage – ( ) Gross Not known Net Not known B.D Not known

Engines Steam By Priestman H.P. N/A
Beached date
c. pre March 1957
Beached by
Capt. Oliver Powell, Tug 'Resolute' Bunny Hunt, Dick Woodward
Miscellaneous
Briton Ferry Fixed grab dredging crane Neath Harbour Board 1903-1911
Gloucester Docks Board 1911-1956
Authorisation for disposal of the pontoon and removal of the machinery from the floating grab crane, Briton Ferry was given on 4th August 1956. (B.W. File 1499 Conway-Jones)

First Owners
Neath Harbour Commission
Changes

Gloucester and Berkeley Canal Co
Records show that in 1909 A.J. Cullis, the Chief Engineer for the Gloucester and Berkeley Canal Co., was extremely busy searching for cranes to fulfil a variety of specified tasks. He requested documentation and drawings or photographs, which were carefully returned with a letter of acceptance prior to purchase, or rejection, as unsuitable for the purpose. At this time, he also became concerned about the erosion of the banks between the River Severn and the canal, which required his speedy and thorough attention. Emergency situations, the need to introduce new technology and general maintenance work were the order of the day.
It is no surprise, therefore, to find carbon copies of letters from A.J. Cullis to S.H.Davey, Neath Harbour Offices, Briton Ferry, written between January 25th 1911, and March 18th 1911, referring to the purchase of the fixed grab dredger, Briton Ferry, for work on the Berkeley and Gloucester Canal. Mr Cullis also obtained a preliminary drawing of a crane by Priestman Brothers Ltd. of Hull and London, in 1903, from Mr. Davey, together with a drawing for a supporting pontoon. Further research is needed to clarify when the crane was attached to the pontoon, upon which it was towed from Briton Ferry to Sharpness, between 5th and 18th March 1911, under the guidance of Mr Rowles.
(Glos Archives D2460/4/4/6 D2460 4/11/15 and D2460 4/11/33).
The crane's facility to clear debris from awkward places lead to its being towed to Tewkesbury on occasions, to clear the basin, with the crew transported by road from Gloucester.
During WW2 the Ministry of War Transport requested details of all vessels, in an effort to assess the usefulness and availability of craft. The following entry was submitted in July 1941:
'Briton Ferry,' grab dredger built by Priestman Brothers, Hull. Length overall 50ft, breadth overall 20ft 1in, moulded depth 6ft, draught 4ft. Can dredge 80 tons per hour at a maximum depth of 20ft and can cut her own flotation. Requires three hopper barges of 50 tons capacity for efficient working. When not in use as a dredger, is employed as a floating crane for cargo work etc.
(B.W. Archives File 15396, Conway-Jones)
Briton Ferry witnessed many changes in the dredging process on the canal. In the 1930s the crane lifted wooden hoppers, from lighters, which had been filled with mud by the dredger, in order to empty that mud into a chute near the Sharpness Railway Bridge, thence onto the river bank. Later, metal hoppers were used and it is worthy of note that some of these formed the chute from the Suction Plant at Purton, which was, itself, responsible for the demise of Briton Ferry, as it marked the end of the box dredging system.
Authorisation for disposal of the pontoon and removal of the machinery from the floating grab crane, Briton Ferry was given on 4th August 1956*. This work was undertaken at the Davis' Boatyard, Saul Junction, and the pontoon was run ashore on a date between then and March 1957. Subsequently, the remains have embedded into the very mud it so carefully removed to prevent the silting up of the canal, over a period of forty-five years.
*(B.W. File 1499, Conway-Jones)
Survey of Briton Ferry 2008/09
Gloucester Records Office
For drawings, see Glos RO D2460 24-K-5 and 24-L-3.
A J Cullis, Engineering reports
D2460/4/4/6 (313)
10.1909 A J Cullis general request for an old steam crane to purchase.
D2460/4/4/6 (846)
20.01.1911 S H Davy Esq. General manager Briton Ferry re tow barge & drawing for disposal
D2460/4/4/6 (862)
25.01.1911 grab dredger Briton Ferry correspondence
January 25th 1911
S. H Davey Esq
Neath Harbour
Harbour Office
Briton Ferry
Dear Sir
I am much obliged by your letter of the 25th last including drawing of the grab dredger, which I herewith return. If my committee are willing to consider the matter I will arrange to inspect the plant
Yours faithfully
A J Cullis
D2460/4/4/6 (885)
06.02.1911 Briton Ferry correspondence
D2460/4/4/6 (894)
Briton Ferry correspondence original request of £450 by Neath Harbour Commission refused
D2460/4/4/6 (895)
Briton Ferry correspondence new offer of £375 by A J Cullis presented
D2460/4/4/6 (914)
Briton Ferry correspondence new offer of £400 by A J Cullis accepted
D2460/4/4/6 (944)
06.03.1911 Briton Ferry correspondence plans made to transport Briton Ferry from Neath to Sharpness
D2460/4/4/6 (963)
18.03.1911 noted safe arrived at Sharpness
04.12.1911 Letter sent via A. J. Cullis to Messrs G W Kelleck & Co, Water Street, Liverpool to advise the use of the grab dredger Briton Ferry in open water was not considered possible as she was unsuitable for the purpose and as such the vessel would not be made available for hire under such conditions.
A. J .Cullis Canal Chef Engineer
Capt. Rowles transporting Skipper
Donald Fowler Canal Superintendent
Bill Deacon former Skipper
Bill Jones former Skipper
Eric Aldridge former Skipper
Charlie Dangerfield former crew
Reg Hunt
Davis Boat Yard
Dick Woodward – Bank beaching party
Bill Deacon – Bank beaching party
Bob Green – Beaching helmsman
Bunny Hunt – Beaching crew and former Skipper
Capt. Oliver Powell Tug Resolute beaching Skipper
Skipper of Dredger No 4,date of Interview 01.07.03
Eric recalls that the vessel Harriett currently at Purton is not the former trow of the same name as this vessel was lost on the canal above the Pilot Public House on the four mile turn and was subsequently recovered using grappling hooks. Evidence to support this claim can be substantiated as he recalls that sections of planking and frames were recovered during dredging operation within the area some time later and he was informed by the then dredger foreman Bill Deacon that he believed they were the remnants of the Harriett as he had been involved in her recovery aboard the crane barge Briton Ferry
The former dredger Skipper's Comments made during a discussion with Janet Presley dated 20.11.2008
"Yes, she was supplied with a boiler, of course, steam, which was of a Scotch type, upright boiler. There were four winches, one on each quarter , with the wires running out to keep her steady. Then, of course, we loaded that stuff into wooden hoppers at that time."
JP "When did you start working with her?"
" I suppose it could have been 1935 or round about that time."
"She was due for any grabbing purposes, in and around lock gates mainly; or back-filling as well, taking the mud out. And when the bank was broken away there was piling along there, say, and that behind wanted filling up, so you cleaned the hoppers out – what was left in the hoppers, mud and stone, you put it behind the piling to fill the banks up."
"I crewed, not permanent mind. You picked up a day and you were off her, on board a dredger, something like that. Briton Ferry would be stationed where it needed back-filling. She would take the rubbish out and put it in the pile."
Maritime Author and historical researcher
Hugh has been most helpful and the Friends are most grateful for the following information:
Crane barge beached 1957 named after the place near Neath where it came from in 1911. It was mainly used with a grab for dredging awkward corners that the main dredger could not reach and for back-filling behind piles. It was also used with a hook for maintenance jobs and occasionally for cargo.
24-K-3 40 ton Barges
Length 65 ft, breadth 12 ft 6 in Wooden construction with iron frames – two cross beams divide hold into three bays of 12 ft ½ in, 17 ft 6 in and 12 ft 3½ in
Tracing (with same number) dated 6/2/07 has later note: As built by Gardiner and Barnard 1911. Another tracing (with same number) has added pencil sketch indicating intention to mount a mobile crane in the hold.
Marine Historian
Not identified as located
PURTON:KEY TO PLAN OF BOAT REMAINS Reference A. J. Parker (1998)
17. Barge or lighter.
Skipper of the tug Speedwell and canal man, date of interview 29.06.03
Mr Savage recalls that the Bill Jones used to skipper/drive the Briton Ferry. Furthermore whilst under tow he remembers s that her unique barrel shape resulted thus" I used to tow her about and the bloody thing used to go all over the place."
Maritime Journalist listed the vessels at Purton as of 22nd April 1957 and identified the unknown barge as being present
Physical description during 1965 visit as "Heavy lighter wooden decked over, one small hatch."
British Waterways as Suction Plant Operator, date of interview 10 May 2003 and 8 June 2003
Dick identified hopper by design and stated that they did not have a name or number. However he went on to state that these craft were commonly used on the S & G Canal by working gangers and maintenance crews. Further his initial contact with this type of craft was on the canal at the unloading shoot as positioned above the Severn Railway Bridge and which were unloaded by the Briton Ferry.
Further Dick identified the crane barge Briton Ferry by name and states that prior to her abandonment in approx 1957 – 1959, she was used for piling, down by Severn Bridge and was described as having a steel cab coal crane on wooden cart/trow/craft. Her role was to grab cuttings from behind lock gates and in the corner of the dock. Further work included empting Mud Hoppers at a location above the Severn Railway Bridge into a chute that sent the cutting over the wall at this point
He fondly recalls his good friend Eric Aldridge used to tow the Briton Ferry with Dredger No. 4. The Briton Ferry had been named thus as it had been purchased from the port in South Wales of the same name.
Upon its abandonment, the Briton Ferry was initially replaced by the steel platform barge the Encore , which had a mobile crane fixed to her deck. Further he states she is currently in position at the marina as a chandlery and goes on to state the Encore was used as a floating quay to provide access to deep draughted vessels that could not reach the quay walls at Sharpness.
Finally Dick located the Briton Ferry as "Below concrete taken to Gloucester, long ways to the bank next to Monarch".